Thousand Gifts 745-900
After taking Camden to school, a trip to the bank, then off to the hospital for bloodwork in very, very wet weather, Rory and I are safely home for the day. She is cuddled up with a blanket watching Sesame Street while I settle in at the computer with some coffee from my favorite hospital barista.
I actually scrapped over the weekend. Never mind that it literally took me 4 days to actually finish this page.
While I haven't posted my list in several weeks, I have been keeping up. Only 100 more to go before January 1!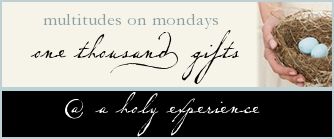 745. trick-or-treating even if it's a bit late
746. a certain little girl with pink streaks in her hair
747. Veteran's Day
748. Camden's pride at singing "It's a grand old flag, it's a high flying flag . . . " as he marched around the living room
749. finishing up our Christmas card early
750. Michael J. Fox's quote: "don't live where your diagnosis is going to take you; live where you are right now."
751. the most manageable chemo round yet
752. birthday lunch at Olive Garden
753. good 5 year check-up for Rory
754. nurses who worry about my immune system
755. lunch bunch
756. seeing a missing member of lunch bunch and catching up
757. teal bracelets from Tina
758. leaving bright and early on Sunday morning
759. leaving a clean house
760. traveling with Liz
761. safety for all of us traveling during Thanksgiving break
762. celebrating birthdays (again) together with Mom, Dad, Becky, Liz, Matt, Camden, Rory, William, and Xavier
763. having Becky with me on another photo shoot
764. successful shopping trip with Mom and both sisters (maternity clothes are not easy to find!)
765. a yummy soup made by Matt
766. being able to leave the kids with Uncle Matt while we shopped
767. Whitey's
768. x 2
769. how well the four cousins played together
770. hearing their squeals of laughter
771. watching them wrestle and (mostly) not hurt each other
772. Cosby show reruns
773. not hurting myself (seriously) when I fell . . .
774. . . .twice
775. pictures that make me smile
776. a close parking spot
777. 4 smiling, beautiful children that I could not love more
778. Brian being able to drive up for Thanksgiving after work
779. Liz's baby shower
780. seeing old childhood friends
781. and watching my kids play with their kids
782. a thankful tree
783. Thanksgiving appetizers, specifically the Neiman Marcus dip
784. Thanksgiving feast
785. having my grandpa bless the meal
786. catching a sweet moment between cousins
787. a successful family picture with all 21 of us
788. the group walk after the Thanksgiving feast
789. that I was able to walk 3 miles and make it back up the hill with little problem
790. the sound of my family gathered around praying for me
791. their tears
792. feeling their love
793. Jesus Calling: "Thankfulness takes the sting out of adversity. . . " and how that has been true in my life over the past 7 months.
794. smores over a fire
795. talking, both lightly and in earnest, about our Thousand Gifts list with Becky
796. reliving childhood memories through boxes of old photos and letters
797. a flip book of Scripture
798. church with my mom, dad, and brother
799. hearing my mom sing in the choir
800. a lovely worship service
801. a sermon on prayer and supplication
802. for the "coincidence" of that sermon being just what I needed to hear
803. prayers and hugs from Pastor Mel
804. peanut M&M's
805. only having to drive 2 hours in the rain
806. the kids playing in the back seat
807. a full night's sleep (the first in several days) back in my own bed with my own pillows
808. a husband who was not only able to come home a little early when I wasn't feeling well, but who was willing to
809. hot turkey and rice soup on a cold night
810. pain relief
811. Becky's recovered pictures
812. James 1:2-3, " . . when trouble comes your way, consider it an opportunity for great joy. For you know that when your endurance is tested, your endurance has a chance to grow."
813. discovering the perfect scrapping kit for a page that's been in my head for a while now
814. buying that kit even if it wasn't on sale
815. Andrea who was able to drop everything to drive me to the doctor's office
816. just an abscess
817. antibiotics
818. "Bless the Lord, O my soul, and forget not all his benefits, who forgives all your iniquity, who heals all your diseases, who redeems your life from the pit,

who crowns you with steadfast love and mercy, who satisfies you with good so that your youth is renewed like the eagle's.
" Psalm 103
819. a friend who passes along Psalm 16
820. calm on scan day
821. trip to Trader Joe's with Brian
822. a quiet afternoon
823. colorful fiesta ware
824. friends who provided the "fun" money to buy the fiesta ware
825. bright, bright sun
826. folding laundry with Rory while cranking up the Christmas music on iTunes
879. starting the Truth in the Tinsel book with the kids for December
880. my Jesus Calling book, such a blessing in my life right now
881. "The steadfast love of the Lord never ceases, his mercies never come to an end; they are new every morning; great is your faithfulness." The Lord is my portion," says my soul, "therefore I will hope in him." Lamentations 3:22-24
882. Camden's thoughtfulness in remembering to ask about my day and my scan results.
883. His "I will go CRAZY, I mean CRAZY if it shows no more cancer."
884. stable scan results
885. new recipes
886. that it's still my neck Rory wants to hide in
887. Camden bringing parade candy to Rory when she's too scared to get it herself
888. colored lights
889. being surrounded by prayers at church
890. chicken cheese vegetable soup with Michael and Liz
891. football on Sunday afternoon
892. "
Though the fig tree should not blossom, nor fruit be on the vines, the produce of the olive fail and the fields yield no food, the flock be cut off from the fold and there be no herd in the stalls,
yet I will rejoice in the LORD; I will take joy in the God of my salvation" Habakkuk 3:17-19
894. the coffee barista at the hospital
895. happy Christmas music playing all day long
896. KimChi kid ornaments
897. "The Lord bless you and keep you; the Lord make his face shine upon you and be gracious to you; the Lord turn his face toward you and give you peace." Numbers 6:24-26 - found on a Christmas card received in the mail this weekend
899. Camden's renewed effort at prayer
900. Rory's long rambling prayers using words she has no understanding of