Thousand Gifts 543 - 568
In the mornings, I typically get up at 5:45 to allow me an hour to wake up (I'm SO not a morning person), do my devotions, and then be alert when I wake the kids up at 6:45. In general I try to avoid most computer stuff until I get home from taking Camden to school. This morning, however, as I come off of 5 straight nights with very little sleep, I fixed myself some coffee (my caffeine fix usually waits until I have an iced coffee mid-morning) and sat down at the computer in a daze. Next thing I knew, it was 7:00 and I was still sitting in front of the computer. Did I mention I get the kids up at 6:45? Yes, there is a reason I avoid the computer before school!
Our weekend was fairly uneventful. Brian was a good brother-in-law and spent the day helping Michael and Liz move (to a house about 5 minutes from us!) and the kids and I just hung out at home. They were actually super good and played together pretty much all day outside so I had it easy.
Sunday was church and a soccer game. I have to say that our little team is getting slightly discouraged (or Rory is at least) by the complete poundings we are experiencing. Yesterday, our team didn't even make it to our side of the field one time. Our coach, who is fabulous in the praise, patience, and positivity department, needs to get in a little coaching as well. I don't care that we're not winning, but you can see the disappointment on their little faces as the other teams score 25+ points, and we rarely touch the ball. Practices are spent telling them how great they are instead of actually showing them some of the rules they're expected to know during the actual games.
I accidentally deleted my Thousand Gifts list for the past 2 weeks so I've tried to rewrite anything I could remember. Since most of the items written in the last 10 days were in a chemo haze, I didn't do a good job of remembering specifics.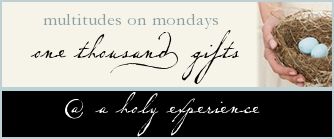 543. the turn, look, and wave I get from Camden every morning as he walks into school
544. relax and sleep from Andrea
545. hugs from doctors
546. jumping on the trampoline with Rory
548. "Your vibrant beauty has gotten inside us - you've been so good to us! We're walking on air!
" Psalm 89:17
549. safe travels for my parents
550. having mom and dad here
551. anticipation of cooler weather
552. a great Thursday
553. empty jars
554. lunch and ice cream with some of my favorite people
555. the joy in bribing 4 year olds (not my own)
556. "Now faith is being sure of what we hope for and certain of what we do not see." Hebrews 11:1
557. unexpected blessings
558. "Winnie and the Pooh" birthday cakes
559. the look on Rory's face when she saw the cake
560. the uproarious giggles from Camden and Rory while playing with the "Achoo doll"
561. a slightly easier than usual Round 6
561. finished projects
562. soft scarves
563. Selah's Hope of the Broken World CD
564. David Crowder Band Remedy
565. teal toes
566. meaningful conversations with my husband
567. friends who let me call and cry
568. faith as small as a mustard seed