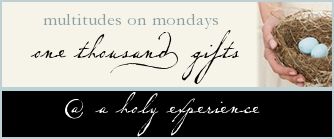 439. a game of Twister
440. lunch with friends
441. generosity of others
442. bedtime stories with Rory
443. Brian, Brian, Brian (cannot ever say this enough)
444. midnight snacks
445. uproarious laughter of my children
446. playdates with sweet friends
447. reading a devotion/Scripture you know God directed you towards
448. farmer's market
449. being in on a secret
450. fresh, colorful, healthy vegetables
451. new school supplies
452. "God comforts us in all our troubles, so that we can comfort those in any trouble with the comfort we ourselves have received from God," (2 Corinthians 1:4).
453. a quiet evening
454. scar tissue, no infection
455. "Those who sow in tears will reap with songs of joy." Psalm 126:5
456. I'm going to be an aunt again!
457. laughing with family at a secret joke
458. feeling better
459. lemon blueberry ice cream with Brian
460. running errands without kids with Brian
461. fried chicken
462. rain and quiet thunderstorms
463. beautiful video with beautiful children with an amazing ability to encourage me
464. first day of school
465. Camden's little boy excitement over the first day of school
466. reading
467. anticipation of coming home to a clean house