Thousand Gifts 392-416
I am quite excited about today. Brian and I are having a kid-free day and going to lunch at P.F. Chang's and then seeing the final Harry Potter movie. I'm so sad to see it end, although not as sad as I was when I read the final book (twice). Before the fun stuff, I've got to see Dr. H who is looking at my stomach holes and checking them out. It will not be fun. Thank goodness I've got some drugs to help get me through. Next up is Dr. W's office to get 4 more bags of potassium. Last week I had 20 bags of potassium. This week we've only got 4 on the agenda, and I'm hopeful to be able to start taking potassium pills again instead of going to the office for IV meds.
Rory really wanted me to take a picture of her new twirly dress, and I was happy to oblige. Unfortunately, it was so humid outside that my camera immediately fogged up and I had to do some heavy editing to recover this picture, but I think it turned out kind of sweet.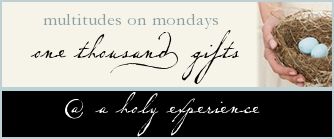 I have to admit that when I went to pull up my Thousand Gifts post, I realized that I had not written one single thing down since the last time. Granted, I've spent most of that time in the hospital and not feeling my best, but there were things to be thankful for. I'm winging it here and hoping to do better in the next several weeks.
392. getting to see Becky again
393. fresh flowers in the hospital room (thank you Kari, Drew, and Emmalyn)
394. visit from a smooshy, sweet baby (and her mama)
395. the blue sky on the way home from the hospital
396. a safe and successful surgery
397. good doctors
398. friends who show up at your door with cupcakes
399. friends who show up at your door willing to offer their nursing skills
400. friends who show up at your door with chicken salad
401. nurses who aren't willing to give up
402. nurses who find new, less painful ways to pack the holes in my stomach
403. a husband who is unfailingly patient
404. a mom and dad who drop everything to come be with me
405. unexpected visit from my grandparents
406. my grandpa's prayer
406. a Whitey's ice cream delivery from my dad
407. finally, finally, finally feeling better
408. being able to hug my babies again
409. watching Rory and Emma and Camden play
410. being able to attend VBS at least one night
411. fulfilling Camden's wish of having his mama home for his birthday
412. shopping with my mom (oh, yes, I did this the first day I felt like I had any strength at all)
413. for the unending prayers and messages from my friends
414. watching William and Xavier sing
415. celebrating Camden's 8th birthday
416. an ever-patient Aunt Liz and Uncle Michael