Rory, Camden, and I rushed out the door early this morning so that we could fit in bloodwork in Springfield (for me), 5 year check up in Bellevue (for Rory), and lunch bunch in Nashville (for both of us) as well as a library visit all between the hours of 7:30 and 2:30. We ate at a place called
The Wild Hare
that I am fairly certain is not for people with children, but they were very accomodating. And the grilled cheese sandwich with bacon and tomato was delicious.
Rory weighs 32 lbs, is 40 inches tall and is in the 10th percentile for both height and weight. The nurse was very sweet and did not make us wait in the waiting room so I didn't have to be exposed to germs, and even let us out the back way. I did not think to ask for any of that extra help with avoiding germs, and it was thoughtful of them to do it for me. They also did not allow Rory to get several of her immunizations that included live viruses so that I would not be at risk as well. Definitely would not have thought of that! Because she's not in kindergarten yet, she still has plenty of time to get them.
It's been several weeks since I've posted my Thousand Gifts list, but I have been keeping up with it (mostly).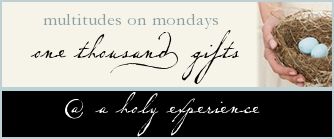 679. Jesus Calling (thank you, Emily!)
680. uninterrupted night of sleep
681. continued good platelet number so chemo can continue
682. "Cast your burden on the Lord, and he will sustain you." Psalm 55:22
683. a walk all alone on a fall afternoon
684. friends who come by with lunch and apples fresh from an orchard in hand
685. watching game 7 of the World Series
686. watching Camden watch game 7
687. fluffy clouds
688. view from an airplane
689. my good travelers
690. Square Burger and a night filled with laughter
691. soft hotel sheets
692. a good cry
693. downtown McKinney
694. perfect weather
695. putting faces with names
696. hayrides
697. football in the street
698. the Wright's family bedtime prayer
699. the view of a colorful fall Tennessee on our way back to Nashville
700. safe flights
701. a visit with friends on a rainy day
702. re-introduction of iced coffee into my schedule
703. Hart of Dixie because it makes me laugh
704. Brian's hugs every day when he gets home from school
705. "Scripture is very clear in saying that He will not abandon us, and we must know Him well enough to believe Him. The world is not going to teach us how to love God' only God can do that. Don't believe the lie that Satan longs to use against you; God has not, and will not, forsake you. Ever. Period." Angie Smith, What Women Fear
706. coloring in the floor with Rory
707. my new Brookstone body bean
708. feeling spoiled, much too spoiled
709. Psalm 37:3 "Trust in the Lord and do good; dwell in the land and befriend faithfulness."
710. Wicked
711. friends who generously share their tickets
712. my fantabulous new boots
713. successful photo shoots
714. and for Brian who stole the picture out of my wallet and went out and found them
715. surprise visit from Becky
716. husbands who can keep a secret
717. lots of new coffee goodies
718. celebrating birthdays with sisters
719. Digital Scrapbooking day
720. meeting new people
721. very cooperative 4 and 9 year olds
722. an extra hour of sleep
723. shopping days
724. "My help comes from the Lord, who made heaven and earth." Psalm 121:2
725. watching a movie with Becky and Liz alone in a theater
726. normal blood pressure two chemo rounds in a row
727. trick or treating a week after Halloween
728. pink hair
729. watching DWTS and The Sing Off with Becky (she's a better TV partner than Brian)
730. for the way playing the piano feeds my soul, soothes my spirits
731. friends who drop by
732. friends who pray
733. feeling calm
734. a 9:00 bedtime
735. a day of feeling good when I should have felt sick
736. Camden's sincere prayer of repentance
737. birthday lunch with my family
738. the color yellow, which never fails to make me feel happy
739. so many birthday well wishes
740. "For this reason I kneel before the Father, from whom every family in heaven and on earth derives its name. I pray that out of his glorious riches he may strengthen you with power through his Spirit in your inner being, so that Christ may dwell in your hearts through faith. And I pray that you, being rooted and established in love, may have power, together with all the Lord's holy people, to grasp how wide and long and high and deep is the love of Christ, and to know this love that surpasses knowledge—that you may be filled to the measure of all the fullness of God. Now to him who is able to do immeasurably more than all we ask or imagine, according to his power that is at work within us, to him be glory in the church and in Christ Jesus throughout all generations, for ever and ever! Amen." Ephesians 3:14-21
741. for my sister Elizabeth; lots of reason to love her but tonight for the Starbucks she brought me
742. Pinterest
743. HD TV - so fun!
744. Camden noticing the sun rays peeking out through the clouds